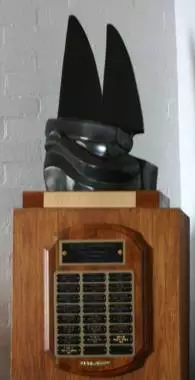 The Peter Fisher Memorial Trophy, donated in 1984 through the generosity of the Peter Fisher Family
Recipients
1984
1985
1986
1987
1988
1989
1990
1991
1992
1993
1994
1995
1996
1997
1998
1999
2000
2001
2002
2003
2004
2005
2007
2008
2009
Larry Rotta
Fred Locke
Charlie Eno
Joe Vallee
Norm Bauman
Jan Gougeon
Dick Lappin
Frank Voorheis
Jim Douglas
Blair Arden
Lynn Hulber
Phil Rubright
Jim Ratliff
Bob Van Eck
G. David Evans
Ray Mason III
Al Merrithew
Dan Pavlat
Patrick Nugent
Harold Beaton
Mike Mahar
Cheryl Cameron
Steve Pettengill
Lease Schock
John Lubimir
1998 Peter J. Fisher Memorial Award Presentation
by
Patrick Nugent
I did not have the opportunity to meet Peter Fisher. Yet I find myself boldly standing before all of you, as I am about to introduce you to Peter Fisher. You know — during March of each year, outdoor temperatures would reach to the high 50's during mid-week. That was enough for Peter to announce to his friends and family, "I'm going to work on the boat this weekend."
Unfortunately, when Saturday rolled around, temperatures were in the low 40's. Yet Peter still went to the boatyard. As he approached his boat, there was probably a 2-inch deep puddle strategically located under the boat exactly where he wanted to proceed with his go-fast bottom repair. As he was considering ways to tackle the job, a neighboring boat buddy came up and asked, "Hey Peter! I'm starved. Do you want to go with me to get a hamburger?" Peter probably spent the remainder of the afternoon at the local hangout solving some of the major problems of the world. Occasional glances out the window showed rain, sleet and snow flurries.
Upon returning home, Susie would ask, "Did you get started on your bottom work?"
Peter replied, "No… But I've got some good ideas." We've all been there!!
Somehow, weather temperatures rise, boat work gets completed, and the boat is in the water once again. Since I never met Peter Fisher, obviously I have never sailed with him!!! But I can tell you what the first sail of the season was like on his boat. It felt great to be out of the cradle and having the boat bob the way it was supposed to! The water was so cold that the cabin was cold! A bag of ice lasted all day Saturday, and there were still a few cubes left on Sunday! Raising a full set of sails and trimming for a close reach for that first time each year is an exhilarating experience. I suspect that it felt so good, that Peter looked and his knotmeter and assumed that it was broken. It felt too good to be going that slow!!!!
Nope…. I never had the chance to meet Peter Fisher. A big highlight of spring is when the GLSS application arrives. You know…. It looks the same every year, but I'll bet that Peter read ALL of the paperwork from start to finish. And after he read it, I'm sure that he sat down in his favorite chair and read it again. I'll bet that the requirement for flares caught his eye. Of course, he was "legal" for the race the prior year, but he wasn't sure about those darn expiration dates! Then he wondered: "Are the flares on the boat? Or are they in the basement?" Those dog-gone flares!!!!
I never met Peter Fisher. Yet in a big way, I feel like I know him. Peter Fisher had the support of his family and friends. His close friends told him that he was crazy! I'm sure Peter grinned from ear to ear as he recognized the admiration from the light-hearted yet deep compliment for his endeavor. I'm sure that Peter had an Aunt Jane who asked the typical three questions: "Do you stay next to other boats all during the race?" "Do you pull in and stop for the night to sleep and eat dinner?" Or the most sincere advice from Aunt Jane is, "Now Peter… When it starts to get rough and stormy, I want you to head for shore." I'm sure that Peter gave Aunt Jane a kiss on the cheek and acknowledged that he would be careful. But Peter knows what we all know — that he is ready, anxious and prepared to face adversity when it comes. We head for deep water (far from shore) when rough and stormy weather is on its way!!!
No… I didn't have the opportunity to meet Peter Fisher. Yet I do feel like I know him. By this time, I could have expected someone to interrupt me and say, "Wait! What's the big deal? Peter Fisher is just like me!" And that is exactly my point. Peter Fisher is just like you and me. This likeness isn't that he had the same color of hair, same height or weight. But Peter Fisher shared the same unique challenging dream that all of us have. The frightening (yet real) piece of the similarities between Peter Fisher and ourselves is that Peter Fisher died while pursuing this same challenge that we pursued this week. As we consider the reality of our own mortality, it becomes easy to say, "Wait a minute! Peter Fisher is just like me!" For these reasons, it is most appropriate that our Society's highest award be the Peter Fisher Memorial Trophy. The truly significant part of this award is that it is NOT a time to mourn or ponder our mortality. Rather, it is a time to celebrate life. Death and dying are a part of everyone's life. You don't have to be a sailor to understand the reality of mortality.
This award is significant because we are like the uniqueness of Peter Fisher. We are the ones with the dreams similar to his. We dream to sail to Mackinac Island alone. It is fitting that, as members of the GLSS, this is our award with Peter Fisher's name on it. It is the highest award that can be given to a Mackinac Solo Sailor. It is an award that will be given today to someone who celebrates life and its achievements – just like Peter Fisher, just like you and me.