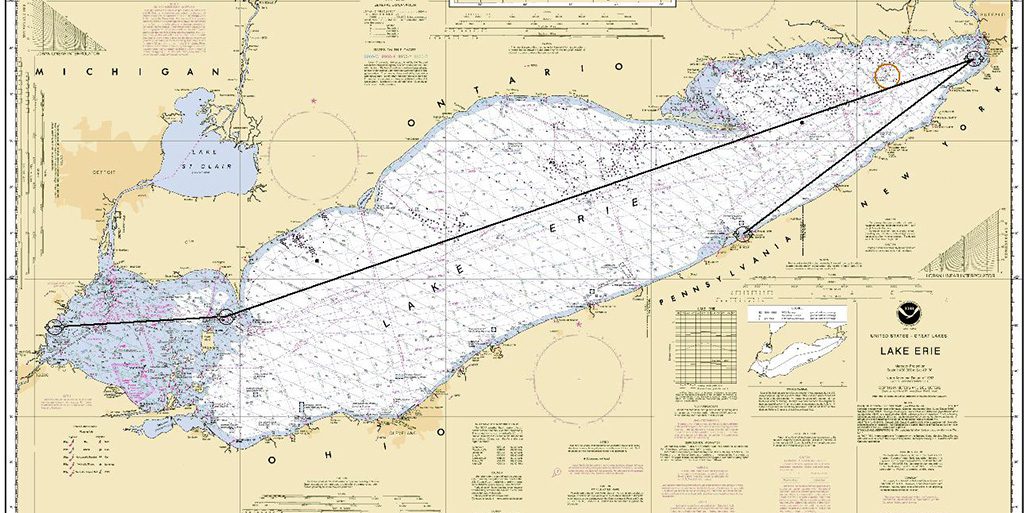 The Lake Erie Solo Challenge represents the fourth GLSS membership granting event on the Great Lakes. While Lake Erie may be the smallest and shallowest of the Great Lakes, those very characteristics make for some extraordinarily difficult sailing at times. Winds can produce large, steep-faced waves seemingly in minutes, and summer thunderstorms can turn a placid body of water into a tempest just as quickly. Throw in in a high concentration of pleasure craft, fishermen, and fish nets interspersed with commercial freighter traffic, and the ingredients are in place for a Challenge on par with those of any other lake.
The Lake Erie Solo Challenge begins with a start off of North Cape Yacht Club near Monroe, MI and the fleet proceeds past Pelee Island, Ontario and eastward to a rounding of the Seneca Shoal Light near Buffalo, NY, thence on to a finish off of Presque Isle Harbor at Erie, PA. The course measures 312 statute miles, and in terms of comparison to the other GLSS Challenges, it ranks fourth behind the Trans Superior Solo, the Lake Ontario Solo Challenge, and the Chicago to Mackinac Island Solo Challenge.
---
The 2021 Lake Erie Solo Challenge Starts on August 14th
---
Registration instructions coming soon.
---
If you have any questions or issues please feel free to call or email,
Lease Shock
LESC Race Chair
Home: (419) 626-5339
Mobile: (419) 656-5424
Email: lesc@solosailors.org

Mailing Address:
1217 Riverside Ave.
Huron, OH 44839


---
Resumé and Solo Passage Documentation – Non GLSS Members Only
Non-GLSS members who wish to enter the Lake Erie Solo Challenge, must submit a Sailing Resumé and also a Solo Passage Documentation form to be considered for entry. Early submission of these documents will allow the GLSS Board of Directors ample time for review, and provide you with time to correct any deficiencies. Non-GLSS members can email their sailing resume and passage documentation to the LESC Race chair, lesc@solosailors.org